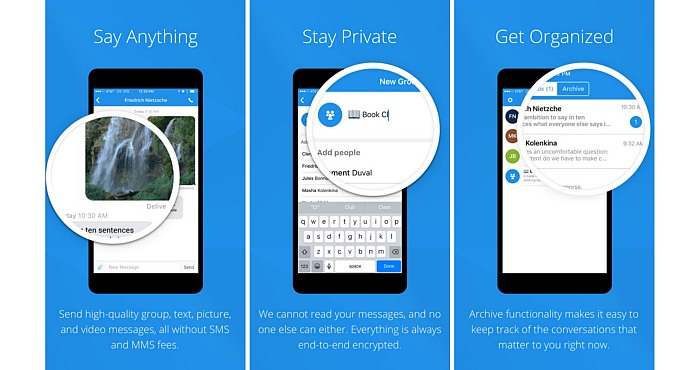 Signal is much like any other messaging app, including WhatsApp, the Facebook Messenger and even iMessage. The big different is that Signal's primary focus rests on security rather than being able to accomplish cute tasks.
Signal is completely free and can be downloaded for iOS, Android systems as well as Chrome. In the latter case, an extension for your browser links to your phone. All the messaging basics are there and at your disposal. You can chat with groups, have video or voice calls, read receipts of messages and even use emojis.
Much like WhatsApp, with Signal, the mobile phone number is used for identification purposes. There are no passwords or usernames to remember and you can forge ahead any time you are ready. If your device happens to be an Android, you can even use Signal to send MMS and SMS messages, whether or not the recipient has the Signal app installed. The only catch will be that the message, on their end, will not come with the same security protocols that your end will have.
There are many reasons to use the Signal Messenger. For starters, it is a great protection for chatting. Everything, whether sent or received, is encrypted. This means that if your data is intercepted between you and whomever you are chatting with, that information will be almost impossible to decipher, unless they are the recipient.
Code used for the Signal app is completely open source, so anyone can see how the app is written. Being able to break the encryption of the messages is virtually impossible. The open source coding also makes it easy to see the standards of privacy are being met and remain as high as the company says they are.
Many security researchers have inspected Signal and the result has been an overwhelming approval from all. Security and data privacy are very hardy and even being used in many other apps that want to keep things hush-hush.
The app is quite easy to use and sets up on your phone in much the same way other messengers do. All of the safety and security lie hidden away, out of sight. Once installation is complete, you will be prompted to enter your phone number, after which you will be asked for confirmation of the same. The Android platform will ask if you'd like the app to be your default messenger.