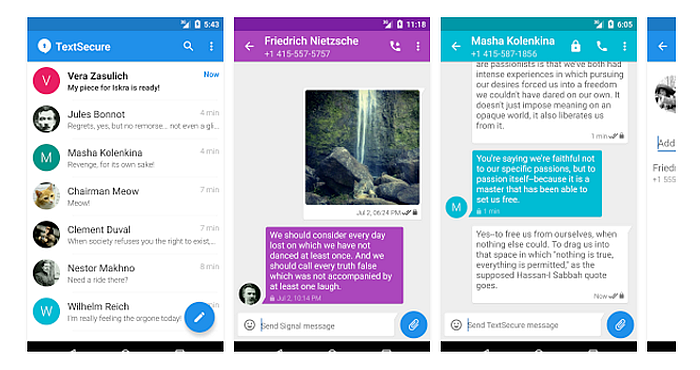 In the 21st century, innovations are occurring in every field and so in the software Industry. But the key to any software program or an app is its privacy. The need to encrypt the data is increasing day by day. Open Whisper, a well-known app maker released a new version of Signal Messaging app, Signal encrypted calling app especially for the iPhones and iPads users.
Signal v2.0 app
This new Signal 2.0 version uses a protocol called TextSecure to encrypt the data content. This protocol ensures that your voice and text messages are secured or encrypted at the sender's end and decrypted at the receiver's end to maintain the data security. Nothing can intercept the data being transmitted through this channel.
The Signal v2.0 app provides peace of mind Unlike other text messaging app, Signal app is an open source app means it can be easily inspected by the experts for its performance and security claims. This app supports forward secrecy, means that if an attacker steals the encryption key of the content being sent, he or she cannot retrieve the original content and decrypt messages sent or collected in the past.
The Signal application keeps your text content on the iPhone highly confidential. Other apps offering end-to-end encryption tend to feel insecure after some time. Taking an example of an Apple iMessage app. This app employs strong encryption, only when the data is being sent between two Apple devices only; otherwise, iMessage fails to maintain the same privacy level as is offered by the Signal Messaging App.
Signal app offers an added feature of identifying the identity of the person you are talking to and ensures that your conversation is not under the attack.
You can find the complete source code on GitHub for the Signal clients supporting Android, iOS and Google Chrome under a free software license. The parties which are interesting in this app examine the code and help the developers of this app to verify the execution of every task. This permits the advanced users to compile their application copies and further compare those copies with the versions distributed by the developer of this Signal App, Open Whisper.
This app needs a phone number for verification purpose. This number may vary from the number of your SIM card. It may be a VoiP number. Only one number can be registered at one time.